Noel Rodrigo's Leopord Safari - Yala
The Hotel
Noel Rodrigo's Leopard Safaris is run by a wildlife specialist, eager to educate adults and children alike on nature conservation and the exotic fauna and flora of this island paradise. The campsite is just 15 minutes from the entrance to Yala National Park. Accommodation takes the form of mobile tents and Leopard Safaris follow strict eco-friendly policies: the tents are lit up with hurricane lamps and bottled water is used for cooking and bathing. During the day, go on safari into Yala National Park in search of elephants, crocodiles, deer, birds, sloth bears and the elusive leopards. Families with children are welcome. Meals comprise of traditional Sri Lankan cuisine and delicious 'jungle BBQs'. Those with special meal preferences and food allergies must inform your Red Dot travel consultant ahead of time: Noel Rodrigo's Leopard Safaris caters for vegetarians, vegans and those with allergies if warned in advance. Noel Rodrigo's Leopard Safaris offers an all-inclusive rate that covers: accommodation; all meals and snacks; all beverages, including drinks from the Jungle Bar; trekking accompanied by an expert naturalist, and minimum three-hour morning and afternoon game drives. If guests are interested in going on a private game drive accompanied with a naturalist an additional supplement is applicable.
Experience at Noel Rodrigo's Leopord Safari
Accommodation is in twin, double or family tents that are set away from each other to provide privacy. The customized South African canvas tents have a zip-up flap system for the windows and doorways to keep out insects. The tents are well ventilated with sizable windows right around and even on the roof. Each tent consists of a sleeping area that opens on to a small sit-out with camp chairs. There is also a side table, shelf, camp chair, side-stool, mirror, torch and umbrella. The toilet, shower and wash basin are detached, located just outside in two separate tents. The w/c is a bio-degradable flushing toilet and the shower consists of a separate changing area. The water for the shower is manually filled each day: hot water is provided for the shower upon request.
Sri Lankan cuisine, snacks and BBQs are on offer prepared with fresh village vegetables and meats. Meals are prepared in a well-equipped trailer kitchen by an experienced chef. Guests are welcome to visit the kitchen and learn to prepare Sri Lankan dishes. There is a well-stocked `Jungle Bar' that serves beer and spirits. Imported wine is served with dinner.
Customized Toyota Land Cruisers are used for the safaris. These vehicles can handle every kind of terrain, give an excellent view, and are specially fitted with camera support points for photographers. An experienced wildlife specialist will accompany guests on the jeep safaris, treks and other activities. Activities for children are available, including a wild animal drawing book and wildlife checklist for safaris.
Facts & Figures
Rooms:
Tents (Twin & Double Tents, Family Tents & Luxury Lodges)
Facilities:
Camp Chairs
Side Table
Shelf
Camp Chair
Side-Stool
Mirror
Torch & Umbrella.
The Toilet
Shower
Wash Basin Are Detached
Location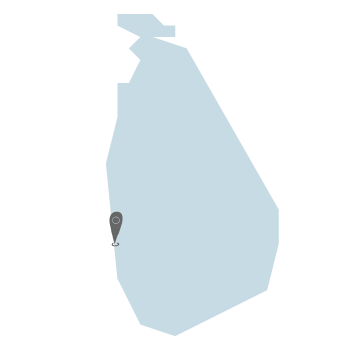 Gallery