Chena Huts By Uga Escapes - Tissamaharama
Luxury Boutique • Tissamaharama
The Hotel
For centuries, people in Yala have farmed small clearings in the jungle called 'chena'. Today, set amongst dunes and trees at the ocean's edge, you will find Chena Huts, Yala hotel in true Uga Escapes' style. Chena Huts is fringed on one landward side by the tropical jungle and on the other by a saline lake where ibises, painted storks and even flamingos may be seen, wading in the shallows. At this small, select property, the 'huts' are in fact luxurious detached, private cabins, offering fine views of the surrounding wilderness and seascape.
Experience at Chena Huts By Uga Escapes
To intensify the wilderness experience, this spacious 7-acre property accommodates only fourteen 1130sq ft guest cabins. This includes a 781 sq ft climate-controlled living space. Exteriors, featuring design cues from the vernacular architecture of the region, are designed to harmonize with the jungle environment; interiors gently emphasize the 'safari' theme, with log furniture, African-style and rustic motifs that belie the ultra-modern comfort and convenience within. Chena Huts by Uga Escapes truly stands out for the ambiance provided for the guests amongst the Yala hotels in Sri Lanka.
Taking its name from the nearby reefs and lighthouse, famed in seafaring history and lore, the Basses restaurant is decorated to an appropriately nautical theme and features urbane fine dining in a spectacularly out-of-the-way location. Should you wish to take your meals under the stars by the beach near a bonfire these options are also available. With a captivating beach front and an enchanting lagoon bordering the property, Chena Huts, being amongst the most unique Yala boutique hotels, has plenty of unique locations to dine in private.
Each of these well-appointed cabins contains of a living area, bedroom, en-suite bathroom and shaded outdoor deck with built-in 5m plunge pool. All are equipped with variable-intensity central lighting systems, 42" LED TV, mini-bar and facilities for making tea and coffee. The luxurious bathrooms feature free-standing bathtubs and twin vanity consoles.
Facts & Figures
Rooms:
14 Luxury Cabin
Facilities:
Living Area.
En-Suite Bathroom.
5m plunge pool.
Variable-intensity central lighting systems.
42" LED TV.
Mini Bar.
Tea and coffee making facility.
Free-standing bathtubs.
Location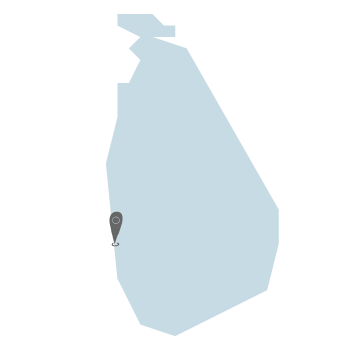 Gallery