Walatta House - Tangalle
Luxury Boutique • Tangalle
The Hotel
Walatta House is a three-bedroom, contemporary eco-designed villa, complete with a twenty-meter pool, ocean views and direct beach access. This Le Corbusier-esque design embraces the luscious Sri Lankan jungle with open-walls and open-skylights allowing an abundance of air and light to flow freely through. It's most unique feature, the turfed roof garden topped with a sundowner platform, is one of the many living spaces to which you may retreat, depending on your desire or mood. By no means have the interior furnishings been forgotten, all hand-picked to the same faultless detail and with practicality in mind; all that may be desired on holiday can be found, from a bright yellow towel rail to a giant reading lamp elevated above the L-shaped sofa. A cook, houseboy, gardener and security are all just a call away to ensure you have everything you need.
Experience at the Walatta House
To the rear of the property, for a more private and exclusive stay, are the three luxurious bedrooms at Walatta House. The first bedroom is the master bedroom which leads to the swimming pool via glass doors that also serve as windows to an excellent view. The room is air-conditioned and is furnished with a king-sized bed. The other two air-conditioned bedrooms are located one after the other behind the master bedroom furnished with a queen-sized bed and single beds. The bedrooms feature a more contemporary design with minimal décor, exposed brick walls, lush green views, and dim lighting for a romantic setting. Each bedroom has an en-suite with outdoor showers and other amenities.
The dining area is part of this same space with an eight-seater dining table in the corner against delicious plants and trees for a luscious, verdant setting. A stone breakfast bar with high stools stands facing the ocean view as well for a quick bite or drinks. The huge land that surrounds the villa will keep you busy for hours upon discovery. The kitchen resides behind the breakfast bar with ample amenities and built with a similar rustic, stone design.
Set on acres of land, Walatta House features a stunning 15-metre infinity swimming pool that sits facing endless patches of green gardens. A wooden deck connects the living room to the pool and just beside you will find sun loungers where you can relax, apply some sunscreen, and indulge in a nap. The gardens are flourishing with seasoned palm trees that form a thicket providing shade and a cooler ambiance. The infinity pool is the ideal spot from where you can enjoy hearty views of the Indian Ocean that dazzles under the tropical sun. The gardens are equipped with alfresco dining so you can take your breakfast against a formidable backdrop. With sustainable living at its helm, Walatta House has utilised locally-sourced, natural materials to build the property and you can see that with its concrete walls, wooden ceiling, and plants well inside the living area. The open sided living room is definitely the most ideal spot for relaxation as you can enjoy the view while at the same time lounging about on the comfortable sofas and chairs. Blooming flowers serve as the décor in the living room which leads to another cove-like room with L-shaped seating and a work desk.
Facts & Figures
Rooms:
3 Bedrooms (Master Bedroom, Guest double & Guest twin)
Facilities:
Hairdryer
Household supplies
Iron and ironing board
Pool towels
Pool umbrella
Safety box
Swimming pool
Wi-Fi Internet
Blu-ray player
International channels
Satellite television
Stereo
TV
Location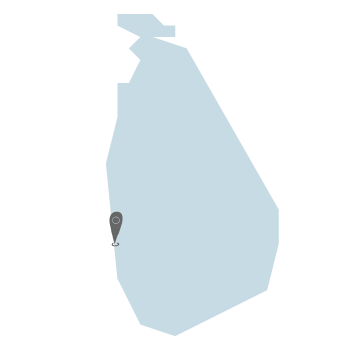 Gallery