Sielen Diva - Unawatuna
Luxury Boutique • Unawatuna
The Hotel
Sielen Diva is a seven-bedroom luxury hotel that provides the tranquility and coziness of a villa. It is modern, with many open spaces, large bedrooms and luxurious bathrooms. The large grounds offer many quiet and private spots to enjoy the sunshine and the infinity pool is ideal for a languid float or an energetic swim.
Experience at the Sielen Diva
Sielen Diva consists of 7 rooms that vary in size and elevations on the property. Room types are Yanai, Mayil, Musikaya, Mora, Monara, Eli Kunji & Aliya. The rooms have been decorated in a warm yet contemporary style with all rooms featuring unique art pieces personally sourced by the family. In tribute to Sri Lanka's abundance of wildlife the villa's seven bedrooms have been named after Sri Lankan animals. Capacity 14 people (7 En-suite Bedrooms: 5 with King Size Beds and 2 Queen Size Beds).
The owners believe that one of the hallmarks of a good holiday is delicious food. Sielen Diva chefs customize menus having received guest preferences prior to their arrival. This is to ensure the food on offer is to their taste. It is hoped that guests will sample local cuisine as its use of specific herbs and spices and its labor-intensive recipes mean that authentic Sri Lankan cuisine is not easily found outside the country. All dishes, regardless of origin are prepared using the freshest local produce: fish and seafood caught that morning, curd made from the milk of local buffaloes and herbs from the herb garden. Following dining options available at Villa Sielen Diva, Romantic Dining, A romantic dinner in a special location can be arranged for guests celebrating a special occasion & Outdoor Barbeque, Sielen Diva is the perfect setting for a gathering of friends and family for an outdoor barbeque by the ocean.
Facilities of The Villa Sielen Diva are, An open air living room with a 14 seater dining table multiple lounging areas, Multiple alfresco dining areas, Sunset Terrace, Infinity Swimming Pool (17m x 4.2m x 1.2m) and Sun Loungers, BBQ and outdoor dining (can be set up in the garden or on the beach), Selection of Lawn Games, Board Games, DVD's and Books, Direct beach access, Wifi in public spaces, Baggage Storage Games Room, Beach Garden, Beach Deck, In Room Massage & Laundry.
Facts & Figures
Rooms:
7 Rooms (Yanai, Mayil, Musikaya, Mora, Monara, Eli Kunji & Aliya)
Facilities:
Large Beds with High Thread count sheets
43" Flat Screen LED 3D TV with Cable TV
Bathrobes and Slippers
Ample Wardrobe space
Electronic Safe
Hairdryer
Wi-Fi Internet
Rain Shower
Spa Ceylon Toiletries
Free standing bath tub with ocean view.
Fresh Flowers
Towels
Ceiling Fans
Air-conditioning
Floor to ceiling windows
Location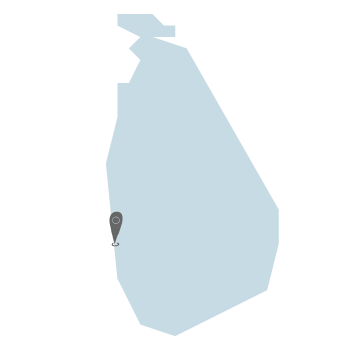 Gallery