Ranawara Villa - Tangalle
Luxury Boutique • Tangalle
The Hotel
Built at the heart of a sprawling 23-acre estate, Villa Ranawara allows its guests to revel in the luxuries of the modern world while relishing the discretion of its private beach. 5-bedroom suites in the main house and two luxury garden cabanas.
Experience at the Ranawara Villa
Tastefully furnished in a colonial style in neutral colours, Villa Ranawara has five bedrooms spread out in various parts of the two-story main villa, each with a unique view of the ocean or the beautiful gardens. For guests seeking more privacy, Villa Ranawara has two garden bungalows located 50 meters from the main villa building.
The fully staffed Villa Ranawara also provides butler services to ensure that all your needs are fully catered to and a live in chef to indulge the taste buds of its guests. The villa houses a massively spacious dining table, which can comfortably accommodate up to 12 guests. Thanks to the property's open-plan architecture, the grand dining room is an opulent experience all of its own, complete with beautiful fresh views of the surrounding nature. The dining room is adjoined by a large well-equipped open-plan kitchen where guests can prepare elaborate meals or opt for a laidback summertime cuisine for their meals instead.
Access to the private beach area is just a short walk from Villa Ranawara which is ideally located on the extensive soft sandy beaches that Tangalle is renowned for. The large 30-meter pool with a view of the lush green gardens of Villa Ranawara can be the ideal getaway in case guests get 'tired' of the beach. Staying in such a grand estate such as Villa Ranawara, guests have the possibility to explore every nook and corner of the residence. The large main villa provides a choice of several living spaces. The spacious ground floor offers an indoor sitting room in a neutral, soothing colour scheme with comfortable sofas and French windows leading to the pool. For guests who want a 360-degree view of the expansive gardens and the Indian Ocean, the first floor sitting room would be an ideal setting. Villa Ranawara also has a fully equipped library with comfortable sofas and arm chairs and a cinema room on the first floor of the main villa.
Facts & Figures
Rooms:
5 Bedrooms (Master Bedrooms & Guest Bedrooms)
Facilities:
Back-up generator
Bar counter
BBQ
Hairdryer
Household supplies
Iron and ironing board
Local phone
Pool towels
Pool umbrella
Safety box
Spa room
Swimming pool
Home cinema
Satellite television
Table tennis table
TV
Location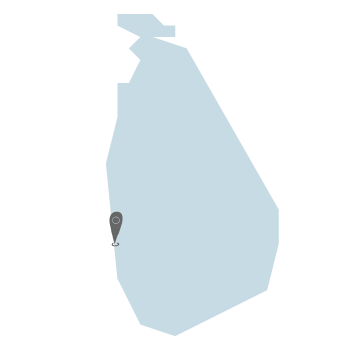 Gallery