Jetwing Thalahena Villas - Negombo
Standard Boutique • Negombo
The Hotel
It was here on this very coastline, where their founder, the late Herbert Cooray, set Jetwing on an extraordinary voyage to serve the world with the very best of Sri Lankan hospitality.
Although the Negombo shoreline proudly hosts many of their larger properties, only at this cozy villa in Sri Lanka will you be pampered with a personal touch of our legendary hospitality from where it all began – by the setting sun of the Indian Ocean, with only the sound of crashing waves from your spacious bedroom.
Experience at the Jetwing Thalahena Villas
Designed with expansive minimalism, each of our 3 Bedrooms provides ample immersion into their luxury holiday villas. In Sri Lanka, our island is painted with natural adornments across their spacious treasures – instinctively inspiring their touch of hospitality with warm, earthy tones in each room that welcomes you. Dressed in rustic accents, the 2 Deluxe Rooms and 1 Suite at Jetwing Thalahena Villas can accommodate a maximum of eight guests, should you wish to book the entire villa for yourselves. Their Suite in particular, is a notable space with not only a roomy living area of its own, but also a private pool and deck which you can indulge in for absolute relaxation. Furthermore, unless a single party books the entire villa, the pool deck remains reserved only for guests in the Suite, and even opens to a tranquil stretch of the Negombo coastline for added pleasure.
With the distant shining lights of Negombo, villa dining by a private shore of the Indian Ocean becomes an enchanting experience. At Jetwing Thalahena Villas, choose to prepare your own meals in our modern villa kitchen or be tantalized by gourmet cuisine in a spacious dining area, or indulge in our legendary hospitality for a Signature Dining experience at any location on the property.
These rooms also embody a modern minimalist aesthetic with the inclusion of contemporary essentials that range from free wireless internet to a LED TV, and even a luxury bathtub and rain shower – which after rejuvenating in, you can slip into a comfy bathrobe and sip on a cup of warm Ceylon Tea with a stunning view of the Indian Ocean. In addition to these amenities made available to you at Jetwing Thalahena Villas, you are also welcome to visit our family across the road at Jetwing Lagoon should you wish to use additional facilities such as their pool, gym, and spa.
Facts & Figures
Rooms:
3 Rooms (1 Suite & 2 Deluxe Rooms)
Facilities:
Individual Air Conditioning, Fans.
LCD TV with Satellite Channels.
Mini Bar.
Electronic Safe.
Iron and Ironing Board.
Hair Dryer.
Parking Facilities.
Free Wi-Fi.
Tea/Coffee Making Facility.
Child Minding Services and Baby Cots on Request.
Location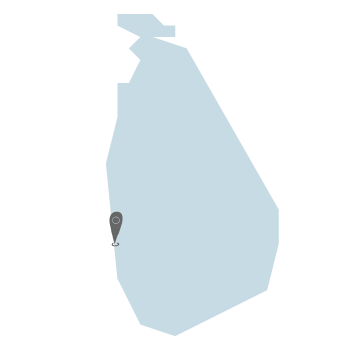 Gallery