The Hotel
Named after the coastal landscapes that have drawn travelers here for centuries, their home of Sri Lankan hospitality is no stranger to visitors from around the world. As a wonderful example of local design fused with modern architecture, they have created a natural invitation that is fitting of their hometown heritage.
Sharing the strip with their family of Negombo hotels, the Jetwing legacy shines as bright as the sun upon their resident shores. Here, at one of their landmark homes on this tropical island, their nostalgic values meet beachfront luxury in an atmosphere that is bound to pamper and enchant you.
Experience at the Jetwing Beach
Designed by Geoffrey Bawa, Jetwing Beach is a contemporary masterpiece of tropical modernism in the form of a Negombo hotel. Luxury rooms share the same contemporary aesthetic across 78 distinct spaces, paying tribute to the dignity of this property as a landmark home of Sri Lankan hospitality, which extends an open invitation for you to come and indulge in beachfront opulence upon the sunny shores of their northwestern coastline. The majority of living spaces at Jetwing Beach are made up of 75 Deluxe Rooms, each of which feature a private balcony or terrace with panoramic views of the Indian Ocean. The luxurious earthen tones of these spacious rooms extend to the plush bathrooms, with the inclusion of a Jacuzzi and separate rain shower enclosure for your absolute comfort. The 3 exclusive Suites on the other hand, elevate all notions of beachfront luxury with a number of added pleasures befitting of their legendary hospitality. Beyond a personalized butler service, each Suite at Jetwing Beach also features an exclusive lounge area, a long balcony with a day bed, and a large open courtyard with its own rain shower, Jacuzzi and two sun beds, which can also play host to a Signature Dining, experience.
Dining options at Jetwing Beach are diverse as they are exquisite. With two restaurants, a bar, beachside café, and six Signature Dining experiences as pleasure of their home of Sri Lankan hospitality, your taste buds will never be short of delectable delights suited for every palate. Inspired by the shores that embrace their home, The Sands is their open-air dining restaurant that looks out into the horizon over the Indian Ocean. Well versed in a variety of flavours from Sri Lankan cuisine to the rest of the world, The Sands specialises in mouthwatering seafood delicacies using daily fresh catches from the sea in full view from your table. For a more elegant dining experience, Black Coral is an exemplary fine dining restaurant that serves a range of local and international cuisine, with the luxurious signature touch of Jetwing hospitality for an exquisite meal that your palate will never forget. To kick back, the Terrace Bar at Jetwing Beach is the ideal respite for a tropical cocktail or a fine wine from their in-house cellar. The casual environment is great for unwinding after a long day with a drink in hand, in the company of friends or family. For lounging during the day however, The Deck is their sophisticated beachside café with an extensive menu to keep you refreshed with snacks and beverages amidst the ocean breeze. And finally, if you wish to dine a little differently at Jetwing Beach, their six Signature Dining experiences allow you to enjoy your meals across a number of unique settings unlike a conventional restaurant. Whether you decide to feast on a BBQ by the beach, or savor a meal in their spa, your suite, or under the starlit sky of Negombo, their home of Sri Lankan hospitality is dedicated to satisfying your culinary pleasures.
In addition to the lavish tropical luxuries available, each room at Jetwing Beach also includes essential modern amenities such as but not limited to: central air conditioning with individual temperature controls, a mini bar, free Wi-Fi, and even a satellite television with access to their in-house DVD library on request.
Facts & Figures
Rooms:
78 Rooms (75 Deluxe Room, 3 Exclusive Suite)
Facilities:
Central Air Conditioning with Individual Temperature Controls
Electric Power (220V-240V)
Telephone with I.D.D. Facilities
Rain Shower
Hot and Cold Water
Television with Satellite Channels
Free Wi-Fi
DVD/CD Player
Tea/Coffee Making Facility
Bottled Water
Electronic Safe
Hair Dryer
Magnifying Shaving Mirror
Bathrobe Slippers
Shoehorn
Umbrella
Torch
Shopping Bag
Iron and Ironing Board
Baby Cot (on request)
DVD Library (on request)
Two Swimming Pools
Tennis Court
Gym
Spa
Laundry/Dry Cleaning
Spa Ceylon Store
Careems Gem and Jewellery Shop
Location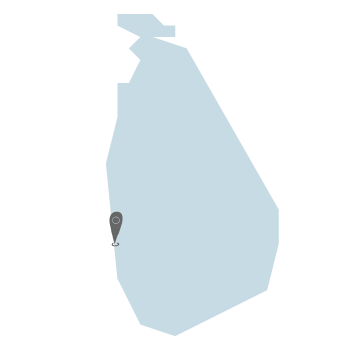 Gallery