Sri Sharavi Beach Villa - Mirissa
Standard Boutique • Mirissa
The Hotel
Sri Sharavi Beach Villas is a spick-and-span holiday retreat with a fabulous beachside setting in Mirissa on the South Coast. It consists of four well-appointed villas fronting a 45 meter swimming pool and the turquoise seas beyond, as well as two Garden Suites. These self-contained, two-story villas are contemporary in design with bright and airy interiors, polished cement floors, high roofs, large windows that provides for spectacular sea views, and luxurious en-suite bedrooms.
Experience at the Sri Sharavi Beach Villa
There are 14 rooms in total, two Standard Rooms and twelve suites, housed in four separate villas. Each of the four villas is individually designed, taking inspiration from Sri Lanka's precious gemstones for the names and color schemes – Topaz, Aquamarine, Amethyst and Peridot. All contain three suites – Ocean Signature Suite, Superior Deluxe Suite and Palm Double Room – each with a private balcony with spectacular views of the ocean or garden. The ground floor consists of a spacious open-plan living and dining area furnished with an eight-seater dining table; bar; fully-equipped pantry with tea/coffee facilities, and one en-suite bedroom opening out to a private garden terrace. The second floor has two spacious suites with a lounge area and walk-in closet. Of the three rooms, two are furnished with a king-sized bed and day bed whilst the other has twin beds.
Dining here feels blissfully informal and involves no dressing up. Villas have a few dining tables, which allow occupants to dine privately or together, while those staying in the budget rooms eat out on the seaside deck. Cuisine is a fusion of international and local flavors so expect seafood, pasta and sandwiches all to make an appearance on the menu alongside rice and curry. Breakfast is included, and local delicacies include milk, rice and buffalo curd with honey. The hotel's wine cellar stocks a respectable range of new and old-world wines.
Service is efficient and highly personalized with butlers assigned to each villa. Shared ground-floor areas in the villas are furnished with sofas and cabinets of well-thumbed novels, and there's a small pantry with refreshments. The swimming pool is huge and there's also a spa, a boutique and an underground air-conditioned TV den next to the hotel's respectable wine cellar.
Facts & Figures
Rooms:
4 Villa (Topaz, Aquamarine, Amethyst and Peridot)
14 Rooms & Suites (3 Ocean Signature Suite, 3 Superior Deluxe Suite, 3 Palm Double Room & 2 Standard Double Room)
Facilities:
Air conditioned
Wi-Fi
Private dining room
Balcony or Terrace
Pool
Spa
Flat-screen TV
Location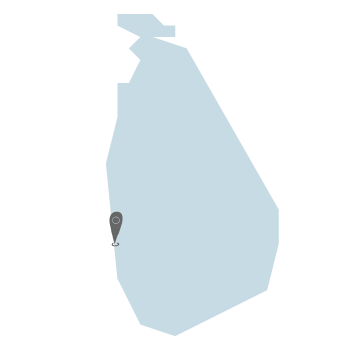 Gallery