Coconut Grove - Ahangama
Luxury Boutique • Ahangama
The Hotel
Coconut Grove is a lovely traditional 4-bedroom village house sleeping 8 people in 4 double bedroom suites, that have been beautifully restored with some modern touches. Situated in a tropical garden, this Sri Lankan family home has the luxury of a beautiful jungle side swimming pool, a pool side pavilion / yoga shala, an outdoor dining pavilion and BBQ area.  It is located near to the fishing village of Ahangama, famous for its stilt fishermen and soft sand beaches and is about 30 mins from the historic town of Galle.
Experience at the Coconut Grove
Villa Coconut Grove hosts four suites that each have posted-double beds that are draped in white-chiffon drapes. The traditional architecture allows sunlight to enter the room by seeping through the intricately carved, wooden-framed windows. Each room features with a ceiling fan to cool the night, a satellite TV, double beds, as well as a stone-built shower adjacent to the space. The bathrooms' alfresco design fits well with its cozy gardens.
The villa comes with a house keeper who has been with the family for years and who will prepare breakfast and assist with other meals. Her rice and curry are a treat and for western cuisine either the guests should lead the way or Eden Villas can arrange a chef at extra cost. The BBQ is a mix of gas and charcoal and is self-catering. The house keeper is assisted by a room lady and a gardener / night watcher.
The generous pool will keep swimmers of all ages entertained and refreshed and is overlooked at one end by the elevated pavilion (known locally as an 'ambalama' that literally means 'meeting place') that can either be festooned with cushions for a siesta or a yoga mat or two, for your own practice. The outdoor dining pavilion and BBQ to the side of the house is an excellent addition and adds another dimension to this multi-faceted garden that also boasts visits from wonderful tropical birds.
Facts & Figures
Rooms:
4 Rooms (Master Room & Guest Room)
Facilities:
BBQ
Gazebo
Local phone
Mosquito nets
Reclining chairs
Swimming pool
Wardrobe space
Wi-Fi Internet
Location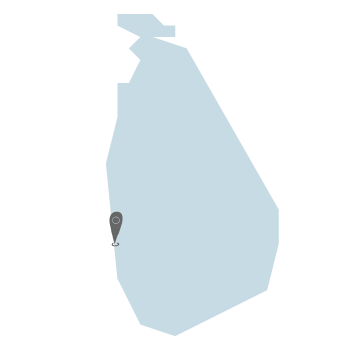 Gallery