Palagama Beach - Kalpitiya
Standard Boutique • Kalpitiya
The Hotel
Palagama Beach Hotel have redefined the holiday concept. The vision of world-renowned designer Cecil balmond OBE and his son John was simple – to create beautiful, sustainable living spaces, blending traditional Sri Lankan design with a touch of the contemporary.
Experience at the Palagama Beach
Palagama Beach is a 'village' of 16 cabanas and villas nestled in the heart of the peninsular. Everything here is designed to bring you back to nature, from the eco-Cajun and illuk roofs, to the rugged coastline and luscious greenery. The following Cabana and Villa types are available at Palagama beach Hotel. Beach Cabanas, There's nothing quite like life by the sea. The morning sun shimmering on the Indian Ocean, the soothing sound of the surf – it's peaceful, calm and tranquil. Garden Cabanas, many people come for the golden sand and ocean sunsets, but their tropical gardens are just as popular. Relaxing birdsong and cooler shady spots (thanks to the luscious greenery) exude peace and relaxation. Finally Villas, Some desire a sea view, others a private garden and sometimes all the guests want is to feel as comfortable as possible. If you want just that little bit more from villas in Sri Lanka, one of three villas could be right for you.
The Corallia restaurant is a perfect spot to enjoy a snack or a meal by the beach. Their meals are prepared using fresh seafood, meats, vegetables and fruits sourced from the local village, including some ingredients that are grown in thier very own garden. You have the opportunity to take this experience to the next level by getting in on the action and seeing how the magic happens firsthand. Their cooking classes are a great way to take a lasting gift back home with you and potentially impress your friends and family with some great curry concoctions. Sessions can be arranged by booking in advance.
Green cabana has been designed in signature style, combining traditional Sri Lankan materials with a touch of the contemporary. Queen-size beds, spacious bathrooms and locally designed furnishings create a perfect seaside hideaway. Tucked away in the green vegetation of Palagama Beach, each Garden Cabana has its own character and design story to tell. Every creation is inspired by traditional Sri Lankan aesthetics, using natural materials like wood, cajan and illuk – all infused with a colourful, contemporary twist. Lose track of time in the privacy of your own garden, relax in the shade of your veranda or simply close the shutters and chill out in your own air-conditioned room. Every villa has two bedrooms complete with queen-size beds, spacious bathrooms and colourful locally designed furnishings – adding a touch of comfort and Sri Lankan style to the interior. All their Villas – Araylia House, Begonia and Wallawwa- are perfect for families or anyone looking for more space, luxury and privacy.
Facts & Figures
Rooms:
16 Cabana & Villa (Beach Cabana, Garden Cabana & Villa)
Facilities:
Queen Size Bed
Own Garden in Villa
Parking Facility
Spa
Location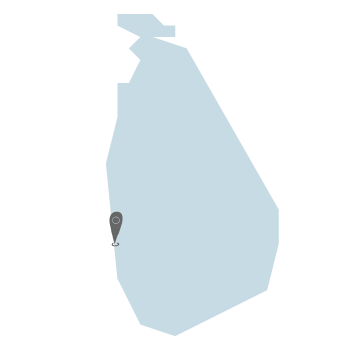 Gallery