North Gate by Jetwing - Jaffna
Standard Boutique • Jaffna
The Hotel
Their teardrop-shaped isle is filled with many cultures. The historic north in particular, is one of intriguing kingdoms and uncharted discoveries – coexisting in a harmonious contrast to the south. Yet this beauty of distinction inspires the very fabric of their legendary hospitality, in a bond they share across their land.
Such a relationship is best embodied by the magnificent Sri Lankan railway, which has always brought the north and south closer together. The iconic Yal Devi, or Queen of the North, has long represented a symphony of their island communities along the tracks, and today its enchantment sits at their doorstep.
Rising above hotels in Jaffna, their home of Sri Lankan hospitality will be the first to greet you and the last to wish you well – for they eagerly await your arrival at the gateway to their extraordinary northern peninsula.
Experience at the North Gate by Jetwing
Standing tall above the northern capital beside the historic Jaffna Railway Station, North Gate by Jetwing invites you to indulge in contemporary luxury on their picturesque peninsula. Their home of Sri Lankan hospitality in the north features 44 rooms – the majority of which are 36 Deluxe Rooms, followed by 4 Family Rooms and 4 Suites. Capitalising on the convenience of their location, North Gate by Jetwing is able to accommodate a variety of accommodation requests with rooms available in twin and double configurations, as well as an exclusive room designed especially for the differently – abled. Every room is fitted with a private balcony that looks over the city of Jaffna and beyond, while the modern interiors have been inspired by the rustic earthen tones that complement the waters of their peninsula.
In the style of all Jaffna restaurants, North Gate by Jetwing prides itself on the cuisine from their peninsula. From crab to cuttlefish and more, the region specialises in some of the finest seafood in the world, set apart by its exotic flavours that are sure to leave your tastebuds tingling. A carefully curated selection of herbs and spices reflect the love and care that any meal in the north is prepared with – and the restaurant at their home of Sri Lankan hospitality is no different. With a show kitchen designed to immerse you in a sensory experience of Jaffna's culinary enchantment, the restaurant at North Gate by Jetwing will leave you with powerful memories that can be recalled from multiple perspectives. In addition to their wide selection of northern specialties, their kitchen is also versed in continental fare for those who seek familiar flavours. With access to some of the freshest ingredients on the island at the nearby Jaffna market, their chefs are not only able to prepare meals to suit palates of the world, but also accommodate a variety of special dining requests should you require. To accompany your meal, the bar at North Gate by Jetwing is open to serve you through the day and into the night. As the northern skyline shimmers over the iconic railway next door, they invite you to wind down with a drink in hand. Choose from a range of mocktails, wines, and spirits from around the world, as well as a signature selection of cocktails inspired by northern flavours as a pleasure of their legendary Sri Lankan hospitality.
This elegance extends to every corner of their rooms, including the bathrooms – which feature a luxury rain shower and a range of complimentary amenities. For your added comfort, they also offer free Wi-Fi and a telephone with IDD facilities to keep you connected, a TV with satellite channels to keep you entertained, and even a mini bar, bottled water, and tea/coffee making facilities to keep you refreshed as pleasures of their legendary Sri Lankan hospitality.
Facts & Figures
Rooms:
44 Room (36 Deluxe Room, 4 Family Rooms and 4 Suites)
Facilities:
Electric Power (220V-240V)
Central Air-Conditioning with Individual Temperature Controls
Free Wi-Fi
Bottled Water
LCD TV with Satellite Channels
Telephone with IDD Facilities
Hot and Cold Water
Mini Bar
Tea/Coffee Making Facility
Electric Kettle
Electronic Safe
Hair Dryer
Bathrobe
Slippers
Iron and Ironing Board
Sewing Kit
Bathroom Amenities
Baby Cots (On Request)
Laundry/Dry Cleaning
Swimming Pool
Location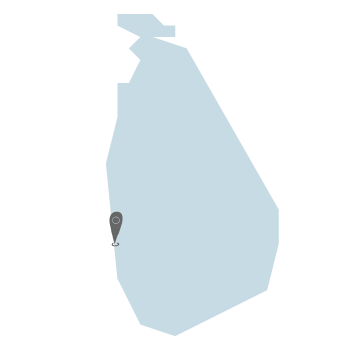 Gallery