Jetwing Jaffna
Standard Boutique • Jaffna
The Hotel
It is with immense pleasure that they invite you to their home in Yaalpaanam – a city of vibrant culture, preciously preserved for generations in a world of its own, and now open for you to discover. Your stay with them comes guaranteed with friendly smiles spread across these lands, as a pleasure of the northern charm that gives their peninsula an identity unlike any other on their tropical isle.
In Jaffna, hotels such as they were among the first to deliver experiences of exotic luxury. And today, as they flourish in the mystique of a long-forgotten region, they are proud to serve you the finest in contemporary Jetwing hospitality, inspired by their legendary northern heritage.
Experience at the Jetwing Jaffna
Ask anyone in Sri Lanka and they will speak of homes in Jaffna with great nobility. Such is the dignity of the northern capital, where their guests are treated with the utmost respect – not as visitors, but as family. As they proudly share these values with the spirit of their legendary hospitality, the heritage of the north blends in seamlessly, producing a splendid exposition of contemporary culture. At seven stories high, Jetwing Jaffna stands out as a symbol of luxurious Sri Lankan hospitality in the northern province. In every one of their 55 deluxe rooms, walls adorned with traditional art not only tell stories of this region's history, but also complement their furnishings of rustic northern colours – creating a distinctly modern living space for your absolute comfort. And with the added benefit of being one of the tallest hotels in Jaffna, your private balcony is arguably the best viewpoint on the peninsula – with panoramic views of the city, lagoon, and lands beyond.
Home to a revered regional cuisine, Jaffna prides itself on distinctive seafood specialties among several other delights. Crab, cuttlefish, and prawn are staples of all Jaffna restaurants, and have inspired their signature menu filled with an assortment of edible northern wonders and global favourites to suit every palate. A fiery blend of spices and colourful dishes feature are a staple of their main restaurant, creating an entire experience in itself – and one not to miss in the northern capital of Jaffna! During the light of the day, you can opt for a traditional lunch complete with an array of exotic curries that pays tribute to the original thali often consumed on fresh banana leaves, while the famed Jaffna crab curry could be the centerpiece of your dinner, accompanied by a selection of rice, thosai, string hoppers, pittu, and more. For added pleasure, they welcome to pair your culinary selection with a fine wine from their bar within the main restaurant – stocked with a range of spirits that are both globally renowned to locally savoured. The very same hospitality extends to their rooftop bar, should you wish to sip on a drink in the open air of the northern peninsula, high above the stunning Jaffna skyline and its surrounding lands.
Beyond Jaffna hotels, Sri Lanka remains renowned for its accommodating nature across their welcoming isle. Likewise, as they welcome the discerning modern traveller, Jetwing Jaffna is equipped to serve you with every contemporary essential to ensure a comfortable stay. 24-hour room service is available throughout the hotel, along with daily housekeeping, as well as laundry and babysitting services if necessary. They also provide a well-equipped conference room to host your next business meeting or event. But if you are here on holiday, join the local populace with a rented bicycle to explore their neighbourhood. If need be, they can even take care of your belongings with their dedicated left luggage facility.
Facts & Figures
Rooms:
55 Deluxe Room
Facilities:
Electric Power (220V-240V)
Central Air-Conditioning with Individual Temperature Controls
Ceiling Fans
Free Wi-Fi
Bottled Water
LCD TV with Satellite Channels
Telephone with IDD Facilities
Rain Shower Enclosure
Hot and Cold Water
Mini Bar
Tea/Coffee Making Facility
Electric Kettle
Utensils, Cups and Saucers
Electronic Safe
Hair Dryer
Bathrobe
Slippers
Iron and Ironing Board
Torch (On Request)
Baby Cots (On Request)
Location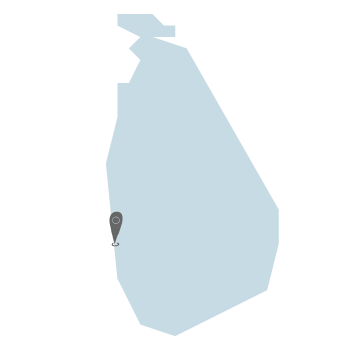 Gallery