Good Karma Hotel - Tangalle
Standard Boutique • Tangalle
The Hotel
A small hotel on the south coast of Sri Lanka. It is the perfect place for a relaxing holiday: long, wide and deserted beach, surrounded by the ocean on one side and on the other – the jungle with freshwater lagoon.
Experience at the Good Karma Hotel
Only five two-store bungalows with direct ocean views, well-kept area with tropical garden. Each bungalow – this is two rooms with separate entrances (on the first and second floors), for a total of ten rooms with spacious verandas and with stunning view.
At Good Karma, you can find a restaurant with a large selection of seafood and Lankan chef. The following breakfast options available at Good karma. Ceylon breakfast, Continental breakfast, Dietary breakfast, Full breakfast, Ricotta Fresca, Eggs Benedict. The following main Dishes are Good Karma Fried Rice with Seafood, Prawns, Calamaries, Tuna / Mackerel (Seer Fish) Steak, Whole Fish, Curry, Fettuccini with Pesto and Prawns & Jumbo Prawns, Lobster, Crabs.
Each room is equipped with air conditioning, hot water, and decorated with local traditions and the tropical climate. The total room area of ​​over 46 square meters, bathroom – 9 sq.m. Pool overlooking the ocean, a restaurant with a large selection of seafood and Lankan chef, tours to numerous attractions, sea fishing, scooters and bicycles for rent, etc.
Facts & Figures
Rooms:
5 Bungalows
Facilities:
Air-conditioning.
Hot Water.
Pool.
Location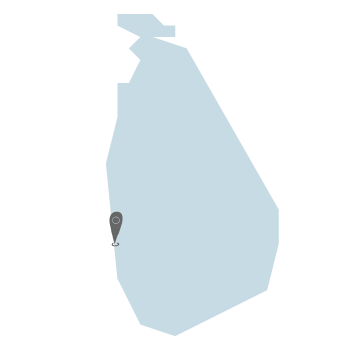 Gallery