The Fort Printers - Galle
The Hotel
The Fort Printers is an 18th century mansion which has been restored into an elegant small private hotel, originally comprising 5 suites but with the addition of two heritage villas in 2013 has 13 suites, offering understated elegance and personal service in an intimate, friendly atmosphere.
Today, The Fort Printers provides elegant accommodation in Galle Fort, a personal and discreet service and a fresh and vibrant menu based on guest preferences. It is ideal as an exclusive accommodation to explore the Galle Fort, countryside and the beaches around Galle. The Fort Printers comprise three villas with 13 bedrooms. Each of the villas may be booked for exclusive use or as separate suites.
Experience at The Fort Printers
All in all, the hotel has 13 bedrooms. Five of these bedrooms – named after academic subjects and personalities – are in the main building. These bedrooms have draped double beds, as well as dedicated bathrooms with rain showers. Although one bathroom also has a free-standing bathtub. The second-level bedrooms – Arts, Geography, History and Headmaster's – all open out to a furnished, wrap around balcony. While the ground-floor Prefect's bedroom has direct access to the hotel courtyard. Another five bedrooms are in the hotel's 41 Church Street annex, and three more bedrooms are in the 54 Peddler Street annex. These bedrooms all have contemporized, draped, four-post beds, as well as dedicated bathrooms with free-standing bathtubs and rain showers.
The Fort Printers offers a fresh and vibrant menu that uses predominantly fresh seafood and organic local produce. The chiefs plan the menu for the day based on guests' preferences, and lovingly create soups, mezzes, and mains comprising grilled fresh seafood, Mediterranean inspired specialties, and traditional Sri Lankan rice and curry (which includes several vegetable dishes and at least one fish or meat curry). As seafood and particularly yellow fin tuna is abundant in the area, you can expect to find dishes with sashimi, grilled or seared tuna, lobster, prawns and several kinds of fish. The meals are served in the frangipani courtyard overlooking the thin lap pool or in the grand dining room and at times to suit the whims of the guests. Breakfast usually includes fresh tropical fruits, fresh fruit juices, homemade cereals, eggs, fresh curds and homemade breads or any other special requests such as frittatas, hot cakes or Sri Lankan hoppers. Lunch may include fresh salads, gourmet burgers, grilled tuna or open-faced sandwiches. Dinner is generally a lavish affair with specialties such as grilled lobster, seared tuna, prawns, slow roasted leg of goat, grilled lamb cutlets or delicious Sri Lankan lobster, prawn or fish curries.
All guest accommodations feature thoughtful amenities to ensure an unparalleled sense of comfort. The hotel's outdoor pool, massage are ideal places to relax and unwind after a busy day. Superb facilities and an excellent location make The Fort Printers Hotel the perfect base from which to enjoy your stay in Galle.
Facts & Figures
Rooms:
13 Rooms (54 Pedlar Street Suites, 41 Church Street Suites, Arts, History and Geography, The Prefect's, The Headmaster's)
Facilities:
In-room climate control (air conditioning)
Air conditioning
Ceiling fan
Minibar
Coffee/tea maker
Iron/ironing board (on request)
Location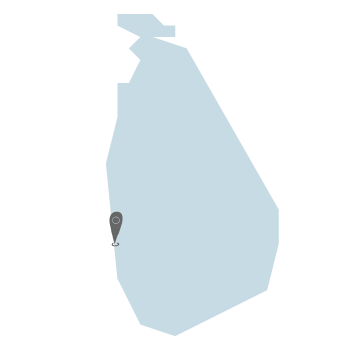 Gallery