Jetwing Kaduruketha - Wellawaya
Standard Boutique • Wellawaya
The Hotel
For centuries, agriculture has shaped the way of life for civilisations across Sri Lanka. Villages such as their own were home to farmers who inspired a lifestyle filled with simple luxuries. Farmers were also held in high regard for their service to these traditional lands, once thriving with a culture that truly represents the heart of Sri Lankan hospitality.
Today, they welcome you to their icon of agro-tourism, which continues to embody this legacy within luxury accommodation in Wellawaya. Modeled after a traditional village home, your stay with them will be filled with rustic comforts across the environs of their eco-hotel. Sri Lanka and her people have built this land on the foundation of agriculture, and it is with great pleasure that they invite you to their rural home filled with natural wonders to behold.
Experience at the Jetwing Kaduruketha
Built on 10 out of the total 60 acres of land that they call home, each of their 25 dwellings at Jetwing Kaduruketha were designed to replicate a traditional village that naturally integrates with their resident environment. Inspired by traditional Kandyan designs, environmental architect Sunela Jayawardene brought an icon of Sri Lankan agro-tourism to life using bamboo and wood to provide natural ventilation. Their retreat at the southeastern foothills of Sri Lanka serves as the ideal hideaway for a vacation with friends or family. As a welcoming home in Wellawaya, luxury accommodation at Jetwing Kaduruketha is featured in the form of two distinct dwellings with traditional names that pay tribute to the historic farmlands that they reside upon. Both Wel Vidana and Arachchi have been designed with an open plan layout in order to immerse you in the picturesque surroundings of lush paddy fields, rural forests, and magnificent mountains, all the while ensuring your absolute comfort within the tranquil spaces of your own dwelling.
As an icon of agro-tourism in Sri Lanka, any dining experience at Jetwing Kaduruketha becomes one to remember. Arguably the most luxurious of Wellawaya restaurants and other eateries in close proximity, Jetwing Kaduruketha carefully crafts your culinary experience with the finest of traditional flavours and global favourites with a selection of three distinct dining options: their main restaurant, their main bar, and five Signature Dining experiences as a pleasure of their hospitality. Comfortably housing up to 60 people, their main restaurant at Jetwing Kaduruketha overlooks the vast swimming pool and expanse of lush paddy fields beyond. With the help of local farmers, their kitchens stay true to their sustainable Field to Fork initiative which promotes the use of organic produce in all meals prepared at their home of Sri Lankan hospitality. In addition, they also grow a number of vegetables on their farm, which are used in a variety of dishes that range from traditional Sri Lankan specialties, to global culinary favourites. Their main bar on the other hand, is a cosy respite set against the backdrop of their serene environment. Well stocked with a number of spirits for your pleasure, the main bar at Jetwing Kaduruketha also features a wine cellar filled with a selection of exquisite red and white wines, which you are free to select as an accompaniment to your meal. Finally, as a pleasure of their legendary Jetwing hospitality, also offer five unique Signature Dining experiences if you wish to wine and dine a little differently. From their immediate surroundings, you may choose to enjoy your meals upon the greenery of their lush paddy fields, at the banks of their neighboring river, upon the deck of their lobby, or by the side of their pool. For a more traditional experience however, Kamatha dining offers a candlelit dinner upon the farmlands used to temporarily stack harvested paddy, while Ambula lets you enjoy an authentic farmer's lunch at a rural village home. Should you wish to immerse yourself in privacy however, you may also savour your meals from the comfort of your own dwelling.
Fitted with a number of modern amenities, each dwelling features rustic comforts combined with their legendary hospitality to make your stay feel as homely as possible. Indulge in the pleasure of having your own personalized butler who will tend to your every need at Jetwing Kaduruketha, or lounge away on your private deck or verandah as you take in the simple luxuries of their serene environment. Each dwelling also features a bathroom with a luxury shower enclosure that provides hot and cold water, a mini bar stocked with refreshments, complimentary bottled water, tea and coffee making facilities, as well as two bicycles should you wish to explore their verdant surroundings on two wheels.
Facts & Figures
Rooms:
25 Dwellings (Deluxe Dwelling (Wel Vidana) & Deluxe Dwelling (Arachchi))
Facilities:
Fan
Electric Power (220V-240V)
Free Wi-Fi
Telephone with IDD Facilities
Mini Bar
King Size Bed
Writing Table
Luxury Shower Enclosure with Hot and Cold Water
Bathrobes
Hair Dryer
Slippers
Electronic Safe
Tea/Coffee Making Facility
Bottled Water
2 Bicycles
Umbrella & Torch
Iron and Ironing Board (on request)
Child Minding Facilities (on request)
Library
Wine Cellar
Laundry Service
Doctor On Call
D.D. and Fax Facilities
Swimming Pool
Ayurveda Spa
Yoga
Location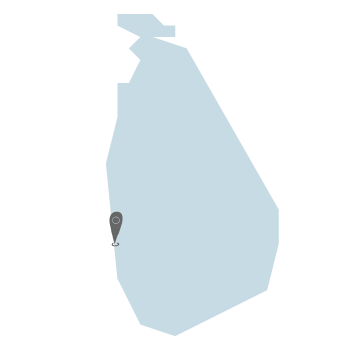 Gallery