Water Garden - Sigiriya
Luxury Boutique • Sigiriya
The Hotel
Well-appointed luxurious villas with king beds, offer the utmost comfort and refinement to ensure that your stay at Water Garden Sigiriya will be like nothing you have experienced before. The large living area with pristine views into the water ways allows the discerning traveler to relish the tropical setting from the cool air-conditioned comforts of the chalet.
As its name suggests, the design of the hotel is based around landscaped water gardens, in a nod towards the ancient water gardens of Sigiriya. As first impressions go, the view of the fortress, framed from the minimalist reception building, is breathtaking, though is to be expected from the hotel's architect Channa Daswatta, a protégé of the late Geoffrey Bawa. Accommodation is in extremely spacious air-conditioned chalets, set either astride or beside landscaped interlinked ponds, which are still a good few years away from reaching maturity.
Experience at the Water Garden
The chalets are free-standing, very comfortable and very spacious. Each comprises a living room with satellite television, sofas, minibar and dining table, and a big bedroom with four-poster bed, writing desk, cupboards and an ensuite bathroom with bathtub and shower. The entire space is air conditioned. French windows open from the lounge and bedroom onto a private terrace, and some, the Superior Deluxe, also have private plunge pools, which makes them worth the extra splurge. Only a few rooms have views of Sigiriya, however all gaze over the water gardens, which are a haven for peacocks, cormorants and egrets.
The formal restaurant is air conditioned and glass-walled, and there's a wraparound al fresco dining terrace too. Tables sit beneath a ginormous copper chandelier. The food is very good and beautifully presented using high quality local and imported produce. Guests generally stay on half-board basis and tuck into set menus for dinner, which may feature seafood, duck and lamb. There's also a set menu for breakfast though lunch is à la carte (with no time restrictions). The handsome bar is huge – on the ground floor it's pleasantly open to the elements whilst upstairs it is air conned and looks towards Sigiriya.
The chalet butlers are well-informed and the restaurant staff accommodating though their level of English varies. The hotel has a spa, a fitness centre and a large swimming pool (plus an adjacent children's pool) overlooking the water gardens and distant Sigiriya.
Facts & Figures
Rooms:
30 Luxury Chalets (04 Duplex Villas with a private-pool, 13 Superior Deluxe Villas with a private-pool & 13 Deluxe Villas)
Facilities:
Private pool with Jacuzzi
Private pool / Observatory deck with sunbeds
and seating lounge
24 hours room service
Individual / Central air-conditioning
Mini bar
Tea / Coffee making facilities
Satellite TV
Telephone with IDD
Personal safe, bath robes & bath slippers
Wi-Fi access
Double sink washroom
Shower cubicle, with rain & hand shower
Stand-alone bathtub
Air-conditioning
I-pod Doc
Tea / Coffee making facilities
Location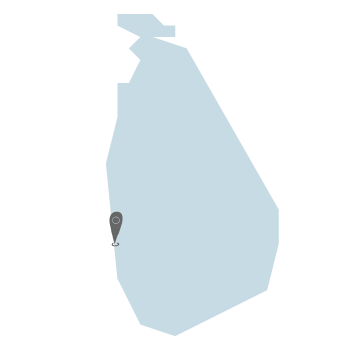 Gallery