Residence by Uga – Colombo
Luxury Boutique • Colombo
The Hotel
Nestled between leafy Park Street and the lakeside Buddhist shrine of Gangarama, Residence by Uga Escapes is amongst one of the most unique boutique hotels in Colombo, Sri Lanka's commercial capital. Built in the 19th century by a wealthy barrister, Sheikh Salehboy Moosajee, the halls and ballrooms of this grand Victorian townhouse once welcomed British governors, Indian maharajas, European nobility and the cream of colonial Ceylon society. Today, Residence is a unique 11-suite luxury hotel in Colombo. Despite its central location, its atmosphere of secluded peace and quiet is pure balm for weary travelers.
Experience at the Residence
The Uga Escapes range of hotels is perfectly positioned in the heart of some of Sri Lanka's most prominent locations, with Residence being an urban delight among the boutique hotels Colombo offers. Quietly tucked away in the midst of this bustling city needless to say it is a haven to retreat to. In true Uga Escapes style, the rooms have been meticulously planned with extensive detail and utmost comfort in every inch. A delicate balance between old Sri Lanka and modern luxury is the running theme that ensures you experience the best of both worlds. Residence has on offer beautifully decked out accommodation options are Park Suites & Residence Suite.
Regarded as one of the exclusive boutique hotels in Colombo, at Residence by Uga Escapes the approach of traditional haute cuisine is happily blended to a contemporary aesthetic based on unusual ingredients and imaginative preparation and presentation. Well-stored wines from our large, knowledgeably-stocked cellar complement the parade of chef's specials, à la carte treats and irresistible desserts. This restaurant in Colombo along with a 100-seat space, overlooking the swimming pool, is designed to allow seating indoors or al fresco, according to the weather and your mood.
For those who are looking to relax and recover, the hotel also has other extra facilities available for you. Ten air-conditioned suites, Grand Suite. All suites feature private outdoor courtyards on appointment, A swimming pool for a good refreshing swim, A Modern gym, A library & A meeting room.
Facts & Figures
Rooms:
11 Rooms (10 Park Suites & 01 Residence Suite)
Facilities:
Complimentary wireless internet access.
Laundry Service.
International direct dialing.
Foreign currency exchange.
Doctor on call.
Valet parking.
Taxi services.
A courtyard.
LCD TV screens.
Espresso Machine.
Fruit Platter.
Living area.
Tea Making Facilities.
Bluetooth enabled Geneva sound system.
Mini bar.
Location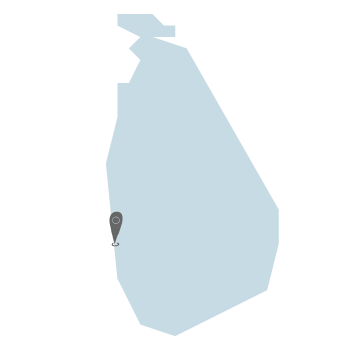 Gallery