Paradise Road Tintagel - Colombo
Luxury Boutique • Colombo
The Hotel
Paradise Road Tintagel is one of Colombo's most prominent luxury boutique hotels. The very sense of luxury starts as you enter the premises with the smell of fresh flowers set out in the center floor. This rustic yet colonial building is located in the heart of central Colombo within short outreach to some great restaurants and experiences.
Experience at the Tintagel
With 10 very carefully thought our suites, The Tintagel is a very private accommodation experience. 7 of the 10 suites being executive suites (ideal for the business travelers), 2 Royal Suites and 1 Superior Suite (Our recommendation for honeymooners). One of the Royal Suites located on the first floor was the selection of Their Royal Highnesses, Prince of Wales and Duchess of Cornwall during their visit to Sri Lanka in 2013. Rooms consist of complimentary wifi, a bespoke amenity range by Spa Ceylon, Mini bar and other little specialities.
Tintagel has 2 very uniquely located restaurants. The Courtyard which is just outside the grand main lobby lounge. It is an alfresco restaurant offering an amazing a la carte menu consisting of international cuisine. The best time to experience The Courtyard is during evening hours with the candlelight. The dining room is where your breakfast is served each morning and it also consists of an a la carte menu with international cuisine open for lunch and dinner.
For those who are looking to relax and recover, the hotel also has other extra facilities available for you. A one room spa available to guests on appointment. A Lap pool on the ground floor for a good refreshing swim or the sun beds to catch a tan. A library consisting of some great literature and coffee table reading.
Facts & Figures
Rooms:
10 Suites (7 Executive Suites, 2 Royal Suites, 1 Superior Suite)
Facilities:
Complimentary wireless internet access
Sumptuous bedding
LCD TV screens with DVD/CD players and DVD library on request
Bespoke amenity range by Spa Ceylon
Private lounge area
Bathroom with bathtub and shower facilities
Nespresso machine with complimentary capsules
Complimentary tea and coffee making facilities
Mini bar
Location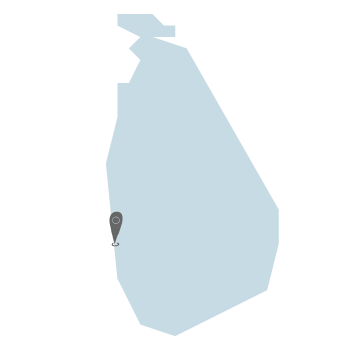 Gallery