Lake Lodge - Colombo
Standard Boutique • Colombo
The Hotel
One of the first accredited tourist accommodations in Sri Lanka, the Lake Lodge is a family owned hotel that is in the heart of the business district of Colombo. Refurbished creatively and uniquely by the owner, the hotel boasts of 12 double rooms and a garden suite that is well adorned with modern conveniences and comfort. With a diverse lunch and dinner menu, the hotel offers space to relax while guests can also enjoy fresh alcoholic and nonalcoholic beverages at the in-house bar.
Experience at the Lake Lodge Colombo
This competitively priced, 13-room hotel effortlessly blends style (6 Ground Floor Double Rooms & 6 First Floor Double Rooms & 1 Garden Suite), elegance and tradition with comfort, warmth and intimacy. It is the epitome of understated charm, tucked away in the lively city centre, to retreat to at the end of a busy day. 12 stylish Ground Floor & First Floor en-suite Double Rooms equipped with modern conveniences. The Garden Suite offers all our standard amenities plus the addition of a private lounge area and terrace. Rooms consist of complimentary wifi, Cable TV, A/C, Overhead Fan and other little specialities.
There is no shortage of choice at this hotel in Colombo. The signature Taru Villas breakfast is fuel for the day, where you can choose from a selection of traditional Sri Lankan dishes or Continental breakfast, and everything in between. The lunch and dinner á la carte options offer many of the usual favourites such as crisp salads, warm soups, hearty burgers or our famous Sri Lankan rice and curry, to both non-residents and in-house guests. Always living up to Taru Villas reputation for personalized service, our chef will be happy to adjust meals according to your preference and dietary requirements, with a little notice.
The hotel also has other extra facilities available for you. In-house laundry service has your clothes laundered as you go, Airport transfers/ taxi service Lake Lodge staff can help you organize your transport needs, Bar & dining Food we are renowned for and a licensed bar
Facts & Figures
Rooms:
13 Rooms (6 Ground Floor Double Rooms & 6 First Floor Double Rooms & 1 Garden Suite)
Facilities:
Complimentary wireless internet access.
King size Bed.
A/C.
Free WiFi.
Overhead Fan.
TV with Cable TV Connection.
In-room Safe.
H/C Rain Shower.
En-suite Bathroom.
Location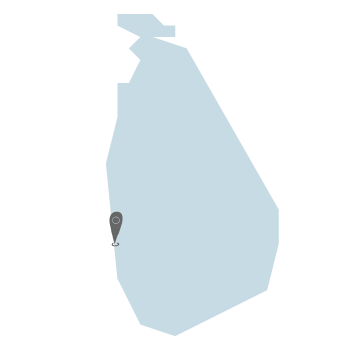 Gallery