Colombo Court Hotel – Colombo
Standard Boutique • Colombo
The Hotel
Colombo Court Hotel & Spa is your urban hideaway amidst an elite neighborhood in Colombo. The cosmopolitan vibes have been seamlessly blended into a tranquil, private ambiance that sets the pace for a memorable experience at this exclusive boutique hotel in the city. Built upon the core foundation of being a sustainable and an eco-friendly hotel, Colombo Court Hotel & Spa is a haven of comforts and modern luxuries waiting to be savored by the discerning traveler.
Experience at the Colombo Court Hotel
Total 32 rooms & Suites, 9 Deluxe rooms, 4 Superior Deluxe, 2 Deluxe Twin Room, 15 Suites, 1 Honeymoon Suite & 2 Duplex Suites. The Duplex Suite is the epitome of opulence and style. A two-storey room, this is home away from home. The living room on the ground floor boasts a private courtyard, while the spacious and comfortable bedroom occupies the upper floor. It is complete with every modern luxury. Rooms consist of complimentary wifi, Smart LED TV and other little specialties.
Dining at Colombo Court Hotel & Spa is an exquisite experience like no other. A gastronomical journey to be savored and enjoyed with loved ones, friends or colleagues. Be it a romantic meal for two, a family celebration or a business lunch Colombo Court Hotel & Spa offers unparalleled dining options. Dine under the stars at Cloud Café, relish a glass of wine over quality conversation at Grape Expectations, unwind with a signature cocktail at the Loft bar, stop by for some shisha and tapas at the amber poolside or indulge in an elegant dining experience at the Scarlet room. The cuisine at all venues is inspired by the global flavors made with the freshest ingredient's ala minute. The chic contemporary interior seamlessly blended into the concept of sustainability instantly provides an inviting vibe at all our venues. Relish, indulge and transform your gastronomic experience into a truly decadent one.
Be as comfortable as if you were at home. At Colombo Court Hotel & Spa, every facility has been designed with ultimate comfort in mind, so that guests will never feel as if they are far away from home. From varied dining options to spacious accommodation and minimalist but elegant surroundings, there is no lack of warmth at this magnificent boutique hotel. Staffs are ever ready to please and meet your every need. In fact, Colombo Court Hotel & Spa is better than home because it provides those extra necessities which make your life complete, such as room service, state-of-the-art gym facilities, a plunge pool, a well-stocked cozy library, SMART TV's in every room, Wi-Fi and so much more. And when the stress of the world gets to you, don't hesitate to book a date with the spa therapists; here is the world of rejuvenation that you have always desired, this 'Urban Getaway' is your plush haven in the city.
Facts & Figures
Rooms:
32 Rooms & Suites (9 Deluxe rooms, 4 Superior Deluxe, 2 Deluxe Twin Room, 15 Suites, 1 Honeymoon Suite & 2 Duplex Suites)
Facilities:
Free Wi-FI
In room safe
Iron & ironing board
Three types of pillows (Micro gel, feather and foam) available on request
Interactive smart LED TV
Tea & Coffee making facilities
Shoe shine service
Hair Dryer
Mini bar
Location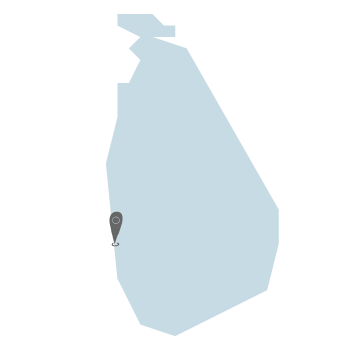 Gallery