Casa Heliconia - Colombo
Luxury Boutique • Colombo
The Hotel
Casa Heliconia is an exquisite holiday retreat set on a three-acre fruit and vegetable estate in the village of Kaleliya in Pasyala in Sri Lanka's north west. Casa Heliconia consists of just two chalets, a swimming pool pavilion and a lounge pavilion which are immersed in lush tropical gardens. The chalets and pavilions have verandas and courtyards under the shade of tall fruit trees, giant red Heliconia plants and Bird's Nest ferns. Interiors are an eclectic blend of art and furniture from the east and the west: stone statues, silk sari drapes, glass chandeliers, gold-gilded fittings and planter's chairs give a warm and exotic feel. Enter through the unassuming reception into this garden sanctuary of peace and calm. Relax by the poolside edged by paddy fields or learn to cook a traditional Sri Lankan meal in clay pots over a wood-fired hearth. By nightfall, take in the magical ambience of hurricane lamps and indulge in a romantic candlelit dinner in the gardens.
Experience at Casa Heliconia
There are two chalets – Temple Angkor and Pagoda Gold – situated well away from each other, providing much privacy. Both chalets are self-contained and consist of a bedroom and dining area and have a/c, overhead fans and iPod dock. Bedrooms are comfortably furnished with king-sized beds. Temple Angkor is a beautifully laid out room, with en-suite bathroom and an outside shower in traditional Sir Lankan Style. The room has a great sit out dining area at the back. Pagoda Gold is the small of the two pavilions with a loo that is outside, and down some steps. It also has an area where you can dine outside.
Casa Heliconia is located in rural Sri Lanka they feel it is only appropriate that most of their food is Sri Lankan inspired. With all rates including breakfast and dinner there is no better time to discover that there is more to Sri Lankan cuisine than just rice and curry. There are also other options available for those with varied taste. If you are staying in Temple Angkor spoil yourself and have dinner cooked for you in your own private kitchen and BBQ area. Their staff is more than happy to give you a few tips to create the perfect curry when you get home.
Lounge at the Doll's House – a separate pavilion for guests – which is equipped with comfortable sofas, a writing desk, computer, 42" flat screen TV, DVD player, a selection of movies, music system and Wi-Fi. The swimming pool pavilion, Pavilion Neapolitan, has a small infinity pool edged by paddy fields. Traditional Sri Lankan and western cuisine is served, prepared with village vegetables and other locally purchased produce, and guests are welcome to bring their own alcoholic beverages. A relaxing massage can be arranged with prior notice. The room rate includes breakfast and dinner.
Facts & Figures
Rooms:
2 Bedrooms (Temple Angkor and Pagoda Gold)
Facilities:
Pool
Free Wi-Fi
TV
DVD Player
Writing Desk
Laundry facilities
Concierge services
Spa
Location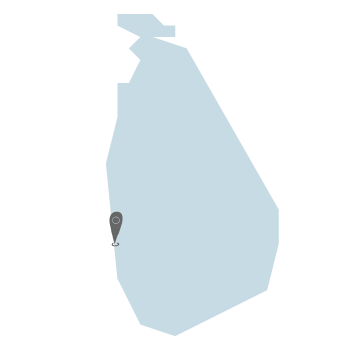 Gallery