Coco Tangalla - Tangalle
Luxury Boutique • Tangalle
The Hotel
Manor House Concepts presents a luxury black and white beach villa Sri Lanka. This Tangalle Sri Lanka hotel overlooks the Indian Ocean and it is ideally placed to explore the south coast or rest in style. Tropical themes blend with bohemian chic at this stylish Tangalle hotel. Guests searching for accommodation in Sri Lanka, can stay in one of the six rooms and groups can enjoy their stay in the whole house, which has a large infinity pool. This luxury colonial beach villa Sri Lanka is a beautiful place to stay while enjoying the best of the country's southern coast, also well placed for whale watching and leopard safaris in Yala. This Tangalle hotel is only a short distance from Mulkirigala Caves where visitors can see the temple and monastery carved out of the rock. A stay at the Tangalle resorts gives guests the chance to unwind in peace and comfort as well as go out and explore Tangalle and the surrounding south coast.
Experience at the Coco Tangalla
All 6 bedrooms differ in design and colours giving a sense of individuality, and the feeling of staying in a home, even though in stylish Tangalle beach accommodation in Sri Lanka. For those seeking a hotel room in Tangalle, the main house comprises of four bedrooms – Kundira, Palmyrah, Kurumba and Thambili – combining oriental and bright colours in silks and local fabrics, artwork and stylish furnishings. All have private en-suite bathrooms with shower, as well as a basin, and WC. One of these rooms has Twin Beds. Adjacent to the main house are two more bedrooms. These can interconnect by a short passageway, making them an ideal combination for a family looking for Tangalle beach accommodation. If you want a room in Tangalle, this luxury boutique hotel is the ideal location, overlooking the Indian Ocean.
At Coco Tangalla, seafood will be a staple gourmet experience of your stay by the Indian Ocean. The focus is on fresh and local ingredients bought daily, and menus include a variety of western and Asian styles and flavours. Lunches are typically two courses from a selection of soups, pasta, vegetarian dishes, or all varieties of seafood and other salads, followed by a delicious dessert where Dinner is three-course fare, which might include crab, mullet, sear fish, lobster or tuna all cooked by interesting fusion. Breakfast (included in all room rates) will typically offer subtle blends of fruit juices according to the season, eggs almost anyhow, pancakes, cereals and some galvanizing Sri Lankan starts to the day, all with a selection of Sri Lanka's renowned teas, or coffee.
Whether you are staying for a while or stopping over, you will want to dive into their infinity swimming pool surrounded by sunbeds. There is a small Library of books and some CD's, and a dock for an iPod. WI-FI is also available in most common areas. Part of the Ambalama is dedicated as a place to lounge and gaze at the Indian Ocean. Massages can be arranged by appointment or you may prefer to enjoy a selection of board games available in the house. They do not generally recommend swimming in the sea on the adjacent small beach, but it is possible on one beach within walking distance and there are numerous good beaches nearby.
Facts & Figures
Rooms:
6 Rooms (Thambili, King COCO, Palmyrah, Kurumba, Arica & Kundira)
Facilities:
Air-conditioning.
Free Wi-Fi.
Safe Locker.
Hairdryer. 
Location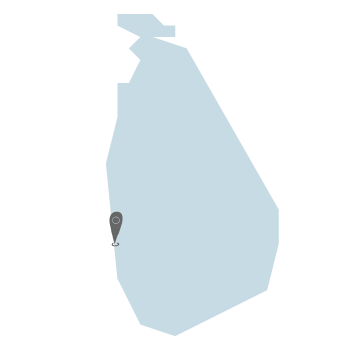 Gallery