Saman Villas - Bentota
Standard Boutique • Bentota
The Hotel
Saman Villas is a luxurious beach hotel perched on a rocky headland in the fishing village of Aturuwella in Bentota. The headland is divided two long, unspoilt beaches of golden sand, backed by dense green coconut plantations. The atmosphere is one of sheer tranquility. Named after the Saman or Jasmine flower – the most fragrant of all oriental flowers, which is said to evoke good fortune for lovers – this exquisite small luxury hotel is a romantic escape and a perfect oasis to escape stressful modern life. Saman Villas is designed with picture-perfect views of the Indian Ocean from each location. Romance, peace and tranquility is the hallmark of this exquisite hotel.
Experience at the Saman Villas
Saman Villas consists of 26 elegantly furnished suites housed in two-storey chalets located on both sides of the rocky headland, providing spectacular sea views. Each suite is designed to give a sense of privacy and seclusion. All suites come with a balcony or a terrace with a small garden, day bed, dining table, lounge area, sleeping deck, dressing room and en-suite bathroom with exquisite white marble floating bathtubs and open-air shower. All suites have a/c, overhead fans, CD player, LCD panel TV, Wi-Fi, hair dryer, mini bar and safe. Some of the deluxe suites have private swimming pools with breath-taking views of the ocean.
Saman Villas takes great care in providing the ultimate dining experience. Dine indoors in the restaurant or outdoors on the beach, perched on a rock, at the edge of the pool, in the water garden at the spa, or even in the privacy of your own terrace. A varied selection of Sri Lankan, eastern and western dishes are served. The pool bar and upstairs Sunset bar, which has magnificent views of the sea, is perfect for taking in the red skies at sunset.
Tall shady trees with cascading roots and waterways lead to the luxurious garden spa, Sahana, which offers an array of relaxing treatments as well as yoga and reflexology in luxurious suites. The spa's Deluxe Suite is set in a water garden with an aromatic sauna, steam shower, large Jacuzzi, mud bath, treatment room, dining pavilion and relaxation pavilion with double bed. The spa's Superior Suite incorporates all these facilities and is set in a tranquil tropical garden. Adjoining is the a/c library bar, complete with snooker table and a varied selection of books. For the more active, there is a fitness centre, badminton court and table tennis.
Facts & Figures
Rooms:
26 Suites (Superior Suite, Deluxe Suite, Deluxe Suite with Pool, Grand Deluxe with Pool & Saman Villa with Pool)
Facilities:
Divan and private dining facility on a verandah or balcony
King Sized bed
Dressing room
Open air bathroom and terrazzo baths
Rain showers
LED TV
Blue ray DVD
Mini bar
Safe
Motorized curtains with bedside control
Air conditioning
Wi-Fi
Neck care pillows
Bathrobe and slippers
Location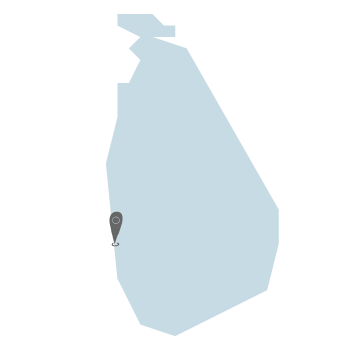 Gallery