Thotalagala - Haputale
Luxury Boutique • Haputale
The Hotel
Thotalagala is a luxurious seven-bedroom boutique hotel that once served as an abode for many tea planters that supervised tea estates in the central highlands of Haputale. This former planter's bungalow now offers some of the most exclusive colonial-style accommodation in Sri Lanka's hill country. The bungalow's two lounge areas, the Morning room and the Main lounge, are decorated in floral prints and complementary colours, creating a warm and cosy ambience. The hotel does not accept kids under the age of 3 years.
Experience at the Thotalagala
The seven suites at Thotalagala pays tribute to notable figures such as Sir Thomas Lipton and James Taylor, including others who shaped the history of the tea sector in the Uva province by decorating the individual suites based on their personalities and their preferences which gives an insight to the great lives these men led. The seven suites are categorised as Junior suites and Suites. The Junior Suites are Sam Popham, George Pilkington and John Duncan and the Suites are Sir Thomas Lipton, Rev. Walter Senior, Major Rogers and James Taylor. All seven rooms have ensuite bathrooms. The suite bathrooms have the option of both bathtubs and a walk-in shower with h/w while Junior Suites have the walk-in shower h/w.
All meals are served a la carte. Breakfast, snacks and the bungalow's famous barbeque spread can be served in the front lawn amidst a riot of flowers and magnificent views across the south eastern plains.Dining can be arranged to 14 Guests.
In addition to the Morning room and Main lounge, Thotalagala also has a Cigar Room. Both the Main lounge and Cigar room have fire places making it an excellent place to unwind with a book or sip a hot chocolate on a cold day. The bungalow has one main dining area which is set for communal dining but private dining can be arranged upon request. Thotalagala does not have television facilities but has complimentary Wi-Fi. They also have a swimming pool overlooking the well-maintained gardens and the mountains at a distance.
Facts & Figures
Rooms:
7 Suites (Sir Thomas Lipton, James Taylor, Rev. Walter Senior, Major Rogers, John Duncan, George Pilkington & Sam Popham)
Facilities:
Clothes Rack
Ceiling Fans
Hairdryer
Safety Deposit Box
Complimentary Wi-Fi
Complimentary bottled water (replenished daily)
Location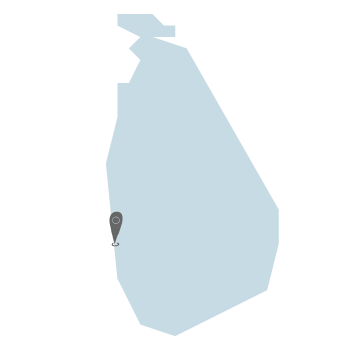 Gallery