Living Heritage Koslanda
Luxury Boutique • Koslanda
The Hotel
At Living Heritage Koslanda they have created a harmonious and peaceful retreat where you can relax, recharge and reconnect with a way of life understood by Sri Lankans throughout the ages. Where traditional architecture and design are fused with the facilities and attention to detail you would expect from a luxury hotel. There's no shortage of wonderful places to relax – the infinity pool sits right above paddy fields and is a great spot to sit back and take in the views. Their villas have their own private courtyard and long veranda and there are three ambalamas (pavilions), ideal for settling down with a good book and a cool drink. The Forest Pavilions are uniquely constructed from local timber on cantilevered platforms, offering spectacular views of the treetops. The "semi-open walls" concept of the rooms offer guests a chance to really connect with nature, in a very unique and romantic setting. For those who want to explore, there are 80 acres of stunning forest to walk in, and it's a perfect base if you want to discover more of the wonders the island has to offer.
Experience at the Living Heritage Koslanda
Living Heritage Koslanda offers guests 6 beautiful and unique suites – all blending traditional Sri Lankan architectural styles and materials, with sumptuous beds and furnishing. All the rooms offer a different experience, from the open sides Forest Pavilions allowing spectacular views of the forested estate, the rustic romantic Pepper Garden Cottage and the sumptuous and spacious Luxury Villa Suites with their romantic open-air bathrooms and plunge pools.
The restaurant faces the lower garden and food is generally excellent. Guests usually dine here although food is served to rooms and the pool area too. Breakfasts incorporate both western and Sri Lankan elements – think avocado and mango juice, eggs (cooked in front of you), curd and honey, and coconut rotis with spicy sambals. Lunches tend to be light – the tasty house salad is prepared from leaves grown in the hotel's kitchen garden – while dinners are set menus comprising a soup and salad, a main course such as chicken with mushroom sauce and vegetables, and a dessert. Rice and curry buffets, plus garden BBQs, are organised when occupancy is high.
The swimming pool is an absolute standout. It's a bit of a hike up from the restaurant area but you soon see why as it sits on its own hilltop gazing down into a valley of paddy fields. Wildlife surrounds you – monkeys' rustle in the trees above and elephants can be heard (and sometimes seen) in the forest beyond. There's a mobile phone to call for room service, the management team is warm and engaging, and service in general is subtle and relaxed. Wi-Fi only works near the restaurant.
Facts & Figures
Rooms:
6 Suites (Luxury Villa Suites, Pepper Garden Cottage & Forest Pavilions)
Facilities:
Clothes Rack
Shower
Towels
Location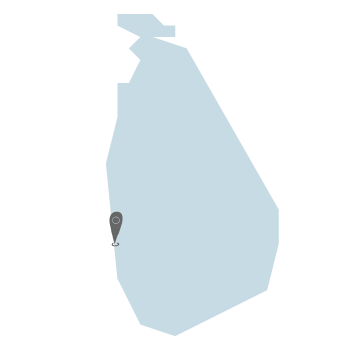 Gallery