Kudakalliya - Arugam Bay
Luxury Boutique • Arugam Bay
The Hotel
Kudakalliya is the ideal beach getaway. It's away from the main Arugam Bay stretch and quite deserted so that you can go for long strolls along its golden beaches and on occasion bump into no one sparring a couple of local fishermen. Arugam Bay's main surf points are just a walk or Tuk Tuk ride away. For those wanting a bit more excitement the main Ulla Bay famous for its Full Moon Parties is just a 5-minute drive away!
Experience at the Kudakalliya
Kudakalliya is set amidst a 3 1/2-acre property with the Indian Ocean in Front and a tributary of the Hada Oya (river) running along the back of the property. Two thoughtfully designed bungalows have been built with utmost care, to optimise the views and maintain absolute privacy so that two separate groups can occupy the two bungalows. (Kudakalliya – Sayura & kudakalliya – Ganga Addara)
Their cook specializes in the local cuisine but can also prepare a limited number of western dishes-including a superb BBQ. You would need to buy the provisions from the market and their cook will turn out some mouthwatering dishes for you. The days catch of seafood, and fresh vegetables and fruit are plentiful in the area. Crab curry, barbequed fish, and of course the local cuisine, such as various curries, pol roti, and thosai with sambal are a must try!
Kudakalliya Sayura has two rooms on the upper floor (one with an attached bathroom), and four single beds on the upper deck. Bamboo tats can be rolled down to cover the sides during the rains, though at most times keep them rolled up and let the sea breeze greet you! The second bedroom and those on the sleeping deck share a separate WC, and a separate open-to-sky shower area. Kudakalliya – Ganga Addara upper floor bedroom opens up to a very large balcony with spectacular views of the flowing river, estuary, turquoise sea and lime green paddy fields. Wake up in the morning to the calls of numerous birds in the mangrove islands and end your day looking at a starry sky with the sounds of crickets and waves lulling you to sleep.
Facts & Figures
Rooms:
2 Bungalows (Kudakalliya – Sayura & kudakalliya – Ganga Addara)
Facilities:
Balcony/terrace
Fan
Microwave
Closet
Mosquito net
Clothes rack
Kitchenware
Shower
Location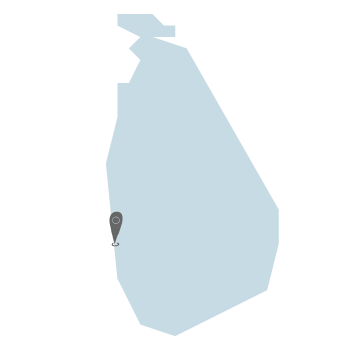 Gallery