Jetwing Surf - Arugam Bay
Luxury Boutique • Arugam Bay
The Hotel
On the eastern edge of their teardrop-shaped island, an uncharted coastline separates their verdant lands from the pristine waters of the Indian Ocean. This harmonious relationship with nature is a story of complementary coexistence, effortlessly brought to life at their cabana resort in Pottuvil Point, a serene hideaway near the celebrated beaches of Arugam Bay.
Their eastern home of Sri Lankan hospitality is a prime example of luxurious eco-tourism in their family, with the bold move of natural ventilation throughout the property and rooms to ensure a minimum carbon footprint. Designed by the upcoming architect John Balmond and inspired by the intricate sea shells that rest upon their unspoiled beaches, natural structures made of wood, woven coconut palm leaves and dried illuk grass welcome you into a truly Sri Lankan environment – named after a world-famous pastime that has drawn travellers to their neighbouring waves for decades.
Experience at the Jetwing Surf
From the imagination of up and coming architect John Balmond, their home in Pottuvil is a testament to eastern eco-luxury lifestyles with 20 rustic cabanas that dot their private coastline with Arugam Bay only a few minutes away. Built entirely with sustainable materials found in Sri Lanka and favouring natural cooling over artificial, each cabana is designed with intricate rope and woodwork, thatched roofs, woven coconut palm leaves and dried illuk grass to create an environmentally responsible coastal respite with a minimum carbon footprint. Gently resting upon the soft sands of their property, your cabana opens up to the tropical splendour of towering coconut trees and crashing waves of the Indian Ocean, complemented by the warmth of their legendary Sri Lankan hospitality at Jetwing Surf. Of the 20 spaces of accommodation available at their cabana resort, four are twin rooms while 16 are double rooms. Furthermore, the architecture of every cabana has been inspired by the abstract seashells that lay under their eternal sunshine. So much so, that when viewed from above, their cabanas form the shape of a giant seashell on the eastern coastline. Inside, each room features wall-mounted fans to complement the perpetual breeze from their eastern waters and to aid natural ventilation, along with a bathroom that provides hot and cold water to both indoor and outdoor showers should you wish to be closer to nature.
Perhaps the finest of dining options across hotels in Arugam Bay, Jetwing Surf features three culinary experiences across their eastern home of Sri Lankan hospitality – their Main Restaurant, which features a bar with a wine cellar, their Pool Bar, which specalises in snacks and drinks, and four Signature Dining options – a Jetwing specialty that should not be missed.Overlooking the Indian Ocean, the Main Restaurant at Jetwing Surf is a breezy space set under a large thatched roof. Designed as an environmentally responsible, open-air setting, the restaurant features both indoor and outdoor seating areas for you to savour your meals from – either à la carte, or from their curated set menus. Their chefs are both well versed in world cuisines to serve you a selection of global favourites, and inherently adept at preparing local specialties, including an array of exceptional seafood from their eastern waters. While the Main Restaurant also features its own bar with a rustic wine cellar, the relaxed Pool Bar is an alternative respite for unwinding under the Pottuvil sun. Enjoy sipping on a range of exotic cocktails that not only provide a welcoming sense of refreshment, but also a splash of tropical colour to your holiday food photographs! Finally, as a specialty of their hospitality across the island, Jetwing Surf also offers four Signature Dining experiences at various locations around their home. Choose to dine by the inviting waters of their pool, on the white sands of their private beach, with a feast in the form of a BBQ, or simply from the comfort of your own cabana.
For your comfort, luxurious bedding invites peaceful slumbers while two large sofas are also available alongside modern essentials such as free Wi-Fi, a telephone, and electronic safe. And as an added pleasure of their hospitality, all cabanas also feature a spacious outdoor deck with a large canopy umbrella that houses two summer beds with a table and two chairs, looking out into the colorful eastern horizon beyond us.
Facts & Figures
Rooms:
20 Cabana (4 Twin Rooms & 16 Double Rooms)
Facilities:
Wall-mounted Fans
100% Natural Ventilation
Electric Power (220V-240V)
Telephone
Free Wi-Fi
Bathroom with Hot and Cold Water
Indoor and Outdoor Showers
Two Large Sofas
Tea/Coffee Making Facility
Bottled Water
Hair Dryer
Electronic Safe
Bathrobe
Outdoor Table and Chairs
Two Pairs of Slippers
Binoculars
Beach Bag with Sunblock
Facial Mist Spray
Wraparound and Sarong
Location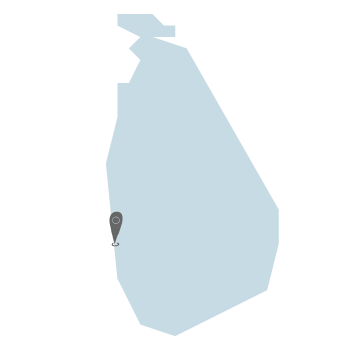 Gallery